["error","The access token could not be decrypted"]
David Armitage achieves 25 years with Whitakers Opticians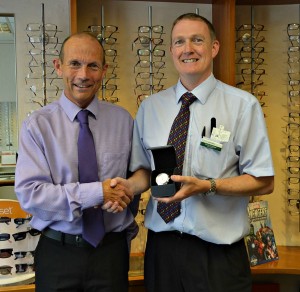 Jonathan Whitaker presents David Armitage with a gift for 25 years service. 
Whitakers Opticians sponsor the kit for Greetland Goldstars Under 16s
Greetland play in the first division of the Huddersfield Junior Football League.

Jonathan Whitaker & Richard Barker complete Tour de France Stage 1 for Charity
Jonathan and Richard completed the 120 miles of Stage 1 of the Tour de France taking in the climbs of Buttertubs, Cray & Grinton in under 8 hours and raised over £300 for the charity Optometry Giving Sight. Many thanks to all those who donated.
Ripponden Brownies look into Opticians
Girls from 1st Ripponden Brownies had a fun packed trip to Whitakers Opticians as part of the sight awareness section of their Disability Awareness badge. The girls, aged seven to ten years, enjoyed learning about eye examinations, including having the inside of their eyes photographed, working on the reception desk, dispensing frames and learning about how lenses are fitted to a pair of glasses in the onsite workshop.