History
The family firm of Whitakers was established in 1932 by the late Albert Whitaker. Albert's son Trevor and his
partner Stanley Topliss then ran the company until 1993 when Trevor's nephew and Stanley's son – Jonathan Whitaker and Jeremy Topliss took over.
Stanley Topliss was well known in optical circles as he was responsible for starting the dispensing course at Bradford College in 1963 and also wrote the definitive textbook on dispensing – Optical Dispensing and Workshop Practice. Trevor Whitaker was well known as an examiner for the British College of Ophthalmic Opticians and was president of the Yorkshire Optical Society in 1969.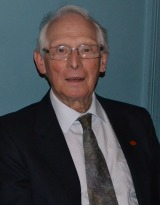 The Sowerby Bridge practice was Whitakers only practice until Mr Spencer's long established practice in King Cross was acquired in May 1974 followed by the opening of a new practice in Elland in September 1977. Mackereth Opticians in Halifax centre, previously owned by Alan Mackereth was acquired in 1997 . This practice was established about 1910 and has been on the current site since the 1930's.The King Cross practice was closed in August 2008.
 In 2011 the business split and became Whitakers Opticians Ltd which consisted of the Sowerby Bridge and Elland sites, owned by Jonathan Whitaker, the third generation of the Whitaker family to work in the business.
In 2016 after an enforced absence from work due to illness, Jonathan decided the time was right to sell the business. Having no descendants in the optical profession, he chose to sell to his long serving staff members, David & Tracey Armitage, and Richard Barker, who now own the business as Armitage & Barker Ltd, but continue to trade as Whitakers Opticians.
Whitakers Opticians aim is to provide thorough eye examinations, personal service and patient satisfaction, as well as supplying high quality eyewear. These are the values upon which the reputation of Whitakers has been built over the years.