Eye Examinations
A typical adult eye exam lasts around 30 minutes. We prioritise patient comfort and care, so examinations are conducted in a spacious, air-conditioned consulting room offering complete privacy. Our highly trained optometrist team use a series of different tests and examinations tailor made to the individual's problems and visual requirements.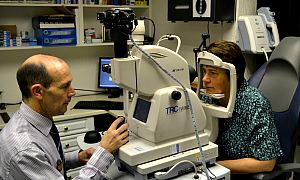 We also offer:
Retinal imaging

Contact Lens Fitting with free trials

PEARS examination which is an emergency appointment for painful or red eyes, flashes and/or floaters etc, for Calderdale or Kirklees residents.
If you are not entitled to an NHS eye examination (for NHS Entitlement) the cost of an eye examination is £29.95 which includes retinal imaging where available. Retinal imaging can be included in an NHS eye examination for a supplementary fee of £5.00. 
Retinal imaging allows a permanent record of the retina at the back of the eye to be recorded. This can be compared on future visits – allowing early diagnosis of any retinal or general health issues.
Please ring for more information.
Child Friendly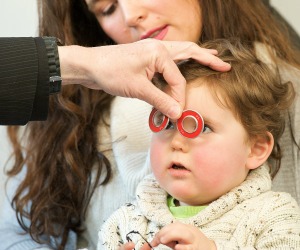 We are child friendly and willingly examine children of any age. We are very experienced at getting the best out of a child eye examination so don't be concerned if you think that your child isn't up to it. You may be surprised how well they can manage!
If required we can obtain frames for even the smallest face.