Eye Examinations
A typical adult eye exam lasts around 30 minutes. We prioritise patient comfort and care, so examinations are conducted in a spacious, air-conditioned consulting room offering complete privacy. Our highly trained optometrist team use a series of different tests and examinations tailor made to the individual's problems and visual requirements.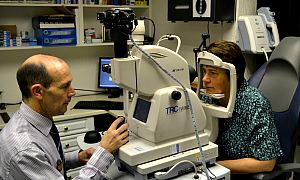 We also offer:
3D-OCT scanning

Contact Lens Fitting

PEARS examination which is an emergency appointment for painful or red eyes, flashes and/or floaters etc, for Calderdale or Kirklees residents.
If you are not entitled to an NHS eye examination (for NHS Entitlement) the cost of an eye examination is £33.50. 3-D OCT scanning can be included in an NHS or private eye examination for a supplementary fee of £21.50. 
3D-OCT scanning is a revolutionary piece of diagnostic equipment that can detect a number of common eye conditions, such as glaucoma, age related macular degeneration (AMD) and diabetic retinopathy, during a routine eye test.
Similar to the scans a radiologist takes in hospital, Optical Coherence Tomography is a harmless light scan of the most sophisticated layer in the human body, the retina. Using 3D imaging software your optometrist can take a detailed copy of your retina to compare against your next visit.
3D-OCT is available in both our Sowerby Bridge and Elland practices. Make sure that when booking your next eye test, you ask about an OCT scan.
Child Friendly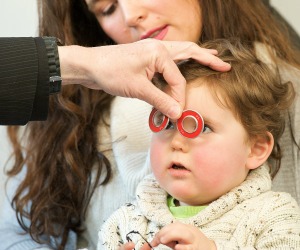 We are child friendly and willingly examine children of any age. We are very experienced at getting the best out of a child eye examination so don't be concerned if you think that your child isn't up to it. You may be surprised how well they can manage!
If required we can obtain frames for even the smallest face.